If you decide to purchase: Franz Schubert – The Bee, process as follows:
– choose ¨buy now/kup teraz¨
– fill out the order form and confirm your order
– you will be redirected to the Tpay website
– pay with PayPal or ,in case you don't have a Paypal account, pay with a credit card (Visa ,MasterCard, etc.)
– now you can go out form the Tpay website .
In the meantime you will get three e-mails:
1.account creation confirmation on our website with login ( given e-mail address) and password
2. confirmation of your paypal payment
3. link to your purchased item – click on the link form the third e-mail , write your login and password form the first email and …. that's all . You can play
. Important:
*notes automatically scrolls to follow the music
*to start playing  click with your mouse in an area outside of the music notation,on the right or left side or use the player.
*you can increase or decrease tempo of your recording using the window ¨ speed¨,which is located in the upper part ,next to the player. A measure of 1 means the tempo in which the accompaniment was recorded We advice you not to overpass 0,8 -1,25 as it might appear the sound distortion.
*When you want to practice a part of the song, click on the beginning of the staff with which you want to start the exercise. The < sign marks the beginning of the part for the exercise. Then you repeat this procedure at the end of any staff. The > character appears. The characters < and > can be moved freely, thus changing the selection of parts to the exercise. When you want to abandon the marking of parts for the exercise, you have to leave the page with the score, the characters will reset.
We wish you many successes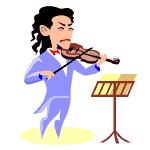 Click "DEMO" to play a part of the song (about 35 sec)